Freedom Acres is located in
St-Christophe d'Arthabaska, a small community beside Victoriaville. Our provincial region is called the Center of Québec, as we are approximately half-way between Montreal and Québec city, 1 hour and a half and 1 hour respectively. Freedom Acres incorporates 66 acres of land, of which 40% in used for pasture and 60% for hay culture. Our land is surrounded by the Nicolet river, which goes north to the St-Laurence River.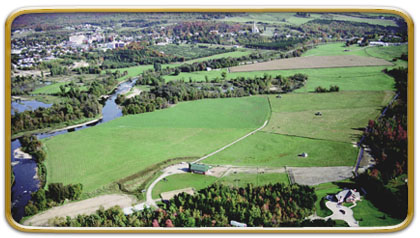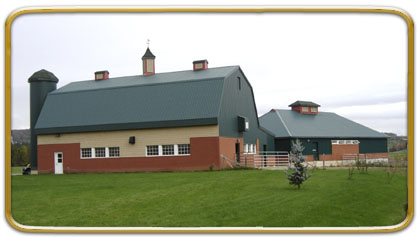 The main barn was built in 1999. With 9 box stalls and 5 stalls, we thought we would be able to reach our goal of keeping 4 or 5 mares, 1 stallion, and breeding 3 to 4 foals a year. However, we soon realized that it was not big enough for all of that. In 2004 we built phase # 2 adding nine box stalls, a shaving silot, a washroom, and a breeding room. We now call the old barn 'the show barn', and the new extension, 'the breeding barn'. We usually keep 7 to 8 mares and 3 stallions; 'Hillmoor Landmark', 'Freedom Royal Majestic' and 'Freedom Latest Exception'.
We have 5 to 8 Clydesdale foals each year.